Privacy Fencing
Do you need privacy for your residential or commercial property? Pro-Line Fence has options for both your home and your business.
If you want total privacy, an industrial-looking corrugated metal fence is no longer your only option. Enjoy your backyard in style with a beautiful new cedar wood or stone fence that can add a positive flare to your landscape, while also maximizing privacy, security, and protection.
Privacy fences are usually between 6 and 8 feet tall around the entire yard, sealing small gaps and blocking sight lines from beyond property lines. Why should you invest in privacy fencing for your property?
Adds curb appeal
Reduces noise pollution
Provides privacy from neighbors and passersby
Keeps children and pets safely contained
Heightens security and discourages trespassers
Provides a peaceful and secluded outdoor environment
At Pro-Line Fence Co., we proudly provide many styles of commercial wooden, vinyl, stone, and brick privacy fences that can be applied for different types of businesses. Find out which fence style and fence materials best fit your design aesthetic below, or request a quote for privacy fence cost now.
Privacy Fence Installation Process
The installation process of a privacy fence varies depending on the material used as well as the desired height and style of the fence. However, the following is a general overview of the installation process for a typical privacy fence so you'll know what to expect.
Planning and preparation: The first step in installing a privacy fence is to plan and prepare the area where the fence will be installed. This includes marking lines for boundaries, checking for underground utilities to avoid disrupting, clearing brush, and obtaining any necessary permits.
Materials and tools: Once planning and preparation are complete, the next step is to gather the necessary materials and tools for the installation. This includes the fence panels, posts, post caps, cement, gravel, screws or nails, and all necessary tools for the job.
Post installation: The fence posts are the foundation of the fence, so they need to be installed securely. This involves digging post holes at regular intervals along the boundary line, placing the posts in the holes, and filling the holes with cement and gravel to stabilize them. Note: Don't rush this step! The posts should be allowed to set for at least 24 hours before proceeding to the next step.
Fence panel installation: Once the fence posts are secure, the fence panels can be installed. This involves attaching the panels to the posts using screws or nails. The panels should be leveled and spaced evenly to ensure a uniform and attractive appearance.
Post cap installation: The final step in the installation process is to install the post caps. These are decorative caps that are placed on top of the posts to provide a finished look to the fence. Post caps can be made of different materials to match your fence, including wood, metal, or vinyl.
Type of Private Fences Available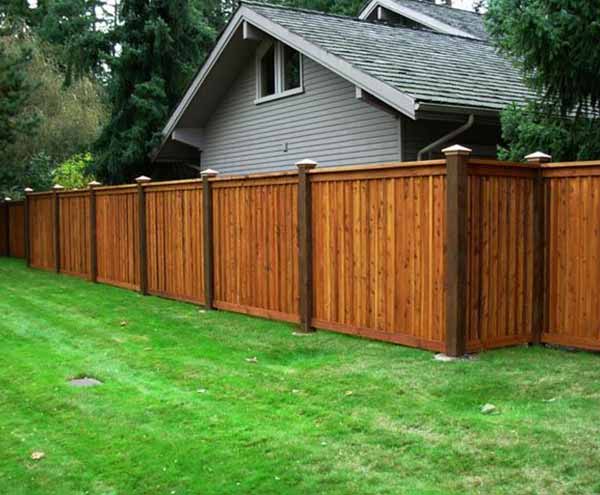 Wood Privacy Fence
Wooden fences have an appealing rustic look and are great for businesses that have walk-in customers visiting their location. Restaurants, home garden, and landscaping companies are all examples of great candidates for this popular type of fencing.
Each wooden privacy fence is installed with 6 kiln-dried wood boards.
All wood fence posts are no less than two feet in the ground and have 80lbs of concrete per post.
We use ring shank nails to hold in the wood. This greatly reduces the risk of nails pulling out of the wood fencing later.
Note that wood fences will require regular maintenance—including staining and sealing—to protect against rot and decay.
Vinyl Privacy Fence
Vinyl fencing is extremely durable, affordable, and flexible. This type of fencing is maintenance-free, easy to clean, and has a very long lifespan. Vinyl privacy fences are very versatile and are commonly used in homes around the yard's perimeter, as well as for industrial applications and warehouses. Since they are resistant to weathering and insect damage, they can last for decades.
Brick Privacy Fence
Brick is a popular privacy fence material since it is great-looking and highly durable while still giving your property complete privacy. At Pro-Line Fence, we are experts at using brick fencing to complement the colors of your property. While brick fences are usually used for home privacy, they also have commercial applications and are a great low-maintenance option that creates privacy.
Stone Privacy Fence
Stone walls can really increase the value of a home and add visual interest. If you are looking for total privacy with a touch of class and want to avoid a harsh steel fence, this sturdy fencing material is something to consider! From fieldstone, colonial, granite, mosaic, veneer, or modular stone, we can customize your wall type and color to complement your property.
Award Winning Fence Installer
Privacy fences are a great addition to any property for a variety of reasons. Not only do they provide a sense of seclusion and security, but they can also add to the overall aesthetic of your property.
Whether you wish to upgrade your existing fence for added curb appeal, total privacy from prying eyes, or both, you can turn to Pro-Line Fence Co. for professional installation of privacy fences in Nashville and across Tennessee. From wooden privacy fences and chain link fences to wrought iron fences and steel fences, we are here to give our customers a superior fence installation experience. It's our pleasure to install a new fence you and your family will love for years to come.
Pro-Line Fence is an authorized dealer of Elite Fence Products and an expert in fencing installation and repair. In addition to these privacy fences, we also install metal fences, picket fences, security fences, gates, and more. When choosing a fence of any kind, we'll help you consider your budget, maintenance requirements, and desired aesthetic in order to choose the best material for your property. Experience our award-winning installation services for yourself today.
To learn more about our fencing materials, labor costs, and more, reach out to us now for a free consultation.
Manufacturer lifetime warranty on all Elite Fence products.